Invitation to participate in 4th Technical and Vocational Education and Training International Conference 2021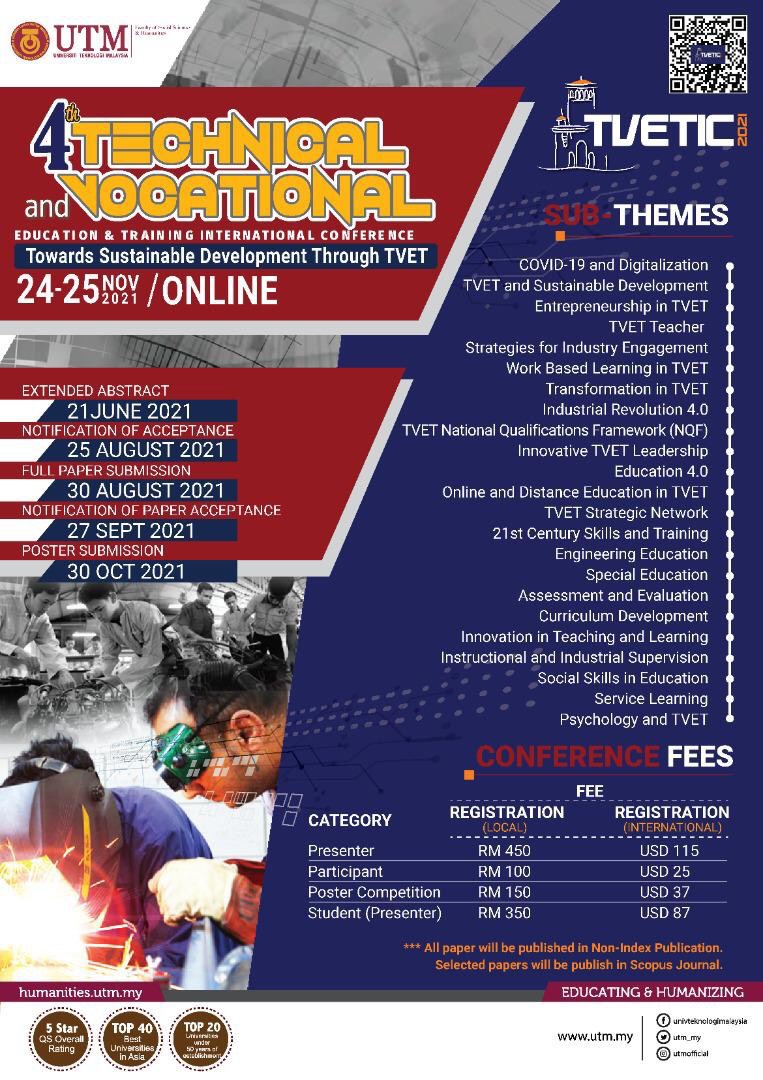 Dear academicians, scientists and researchers,
Assalamualaikum and Greetings
 CALL FOR PAPERS
Universiti Teknologi Malaysia invites all academician, industries, researchers, and practitioners to participate and present in the 4th Technical and Vocational Education & Training International Conference (TVETIC2021) with details of the conference as follow:
Date: 24-25 November 2021
Theme: Towards Sustainable Development Through TVET
Mode: Online
 IMPORTANT DATES
Extended abstract deadline: 21stJune 2021  5th July 2021
Notification of extended abstract acceptance: 25thAugust 2021
Full paper submission dateline: 30thAugust 2021
Notification of full paper acceptance: 27thSeptember 2021
Poster submission deadline: 30thOctober 2021
Participation registration deadline: 19th July 2021
Online conference: 24-25thNovember 2021
ONLINE PAPER PRESENTATION
All paper presentations will be conducted virtually
Presenters need to make pre-recodedvideo of power point presentation for the papers that submitted to the conference easychair system.
Duration of the video presentation is between 7-10 minutes.
The video presentation will be played during parallel session of the conference with the presence of main author for the Q&A session.
For further information, visit our website at:
   LANGUAGES
   AWARDS
Best Paper Award
Best Poster Award
 PUBLICATION
1) ALL ACCEPTED PAPERS will be published in Non-Index Publication.
a)Journal of Workforce Education & Research (JWER)
b) Jurnal Pendidikan Teknik dan Vokasional (PPTVM)
2) Selected papers will be recommended for publication in SCOPUS indexed journals with  additional fee.
CONTACT US
TVETIC2021 Secretariat
School of Education,
Faculty of Social Sciences and Humanities,
Universiti Teknologi Malaysia,
81310 Skudai, Johor,
MALAYSIA
tvetic2021@gmail.com
https://humanities.utm.my/tvetic2021/